Warning
: file_get_contents(http://rss.api.ebay.com/ws/rssapi?FeedName=SearchResults&siteId=0&language=en-US&output=RSS20&sacat=13715&ftrt=1&fbd=1&sabdlo=&sabdhi=&saprclo=&saprchi=&floc=1&saslop=1&fsop=3&fsoo=2&from=R6&fss=1&sasl=&sacur=0&afepn=5335823559&customid=NFL%2BBlitz&saslc=0&fcl=3&saaff=afepn&catref=C5&frpp=100&satitle=NFL+Blitz%2B+&ftrv=1&fts=&salic=0&sascs=0&fspt=0&fpos=&sadis=10&frts=0): failed to open stream: HTTP request failed! HTTP/1.0 504 Gateway Time-out in
/home/classica/public_html/cont/FrontControl.php
on line
2101
NFL Blitz Arcade Game and Parts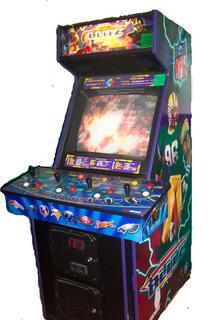 From the same creators of
NBA Jam
, NFL Blitz was a cartoonish, yet incredibly addictive football video game. Like
NBA Jam
, there are almost no rules. Pass Interference, late hits, celebrating after the play were not only allowed but encouraged. It was the original anti-Madden football game.
The game took things like gravity and reality and then tossed it out the window. On certain plays the quarterback could throw accross the entire 100 yard football field. Players could dive 10 yards in order to make a tackle. Also, defensive players could go for the facemask and throw the offensive player down.
Even if you weren't a fan of football, the game was just so easy and fun to play, that it was a major hit in the arcades. Since 99% of the rules of football were taken out of the game, the game was accessible to everybody.
For all the current NFL Blitz Arcade Games being sold as well as all the current NFL Blitz game parts and manuals, browse through the listings below.
If you're looking for a different game, just use the menu on the left or the advanced search function. You are bound to find the game you're looking for.
No products matching your query have been found in our store. Please bookmark this page and come back soon to see if we have what you want.